You may have seen the video of an IKEA dresser falling on a 2-year-old boy earlier this year.  Over 1.5 million have looked and have learned just what can happen if a dresser is not properly attached to a wall.   If you haven't seen it, and you are a parent with small children, you just might want to watch it, as shocking as it is.  CLICK to read the story.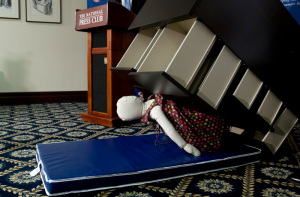 Photo courtesy of: AP
In this case, there was good news.  The child's twin brother saved him.  The boys had crawled on top of the dresser after pulling out the two middle drawers.  The dresser fell over leaving one of them trapped.  It was all captured on a "nanny cam" installed in the bedroom.
Last year IKEA made worldwide news after at least 3 children were killed by dressers purchased at the giant retailer.  IKEA also recalled 29 million of those dressers.
By the end of 2016, lawyers representing the families of 3 toddlers killed by recalled Ikea dressers said the company has agreed to settle wrongful death lawsuits, paying the parents a collective $50 million. In addition, Ikea will donate $250,000 to various children's organizations and increase funding for a campaign highlighting the dangers of tipping furniture.
In court, the families of the deceased children accused Ikea of knowing the danger posed by the dressers for years before the recall, while Ikea claimed the parents were negligent for choosing not to secure the chests to walls.
Ikea said that it clearly notes in materials supplied with dressers they sell that it is imperative that consumers attach the dressers to the wall and provides the hardware within the packaging.  The company says they have been providing these warnings for decades.
While the parents received these monetary settlements, we can all agree that no amount of compensation can take the place of a lost child.
For that reason, the Tauber family urges you to read all safety materials carefully before putting any type of product to use.
Finally, if you believe you or a family members has been injured by a faulty product caused by the negligence of another individual or a company, we want you to come and see us at Tauber Law Offices.  We will listen to you carefully and determine if we believe you have a case.  If you do, our representation will continue until there is a fair and just settlement.  There is never a fee for the initial consultation.