How many times have you seen this while driving?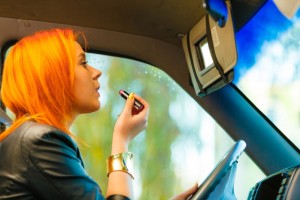 How about that man shaving while driving?   A  smoker fishing for a lighter?  Not to mention people texting and using cell phones while driving?   Let's admit it, many of us have done it from time to time.
Bottom line:  Distracted driving is mighty dangerous.
Finally, states are starting to crack down on violators.   A new law in Illinois started on January 1 of this year.  Now,  you can be fined $80 if you are using your cell phone while driving in Illinois – unless you have a hands free device.
Indiana?  Not as tough.
Indiana does not have a hand-held ban for all drivers, but it does ban all drivers from text messaging.  However, drivers under the age of 18 are prohibited from all cell phone use
For those teens and young drivers the statistics are startling.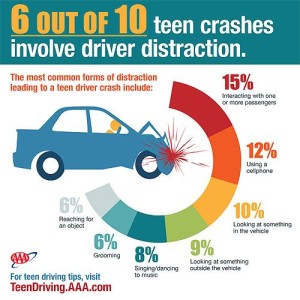 The simple fact is that thousands have died in car crashes involving cell phone use and other practices which distract a driver.  The National Safety Council (NSC)  observes April as Distracted Driving Awareness Month to draw attention to this epidemic.
The NSC wants to empower you to put safety first and Take Back Your Drive.
What's more, we always hear "watch out for the other guy."   This means that you can be following all of the rules of the road, and you can still be involved in a crash due to another distracted driver.  These days, with all of the new distractions out there, it's even more important  to keep your eyes open and pay close attention to the road
According to a study by AAA, "nearly half of all people who say they feel less safe than they did five years ago say distracted driving by other drivers fuels their concerns."
Another important fact from AAA research:  "Distraction 'latency' lasts an average of 27 seconds, meaning that, even after drivers put down the phone or stop fiddling with the navigation system, drivers aren't fully engaged with the driving task."
Bottom line:  It takes only seconds to turn your drive into a serious tragedy.
Statistically, there's a good chance you will be in an auto accident in your lifetime.  Hopefully it will be minor.  However, if it's more serious involving injuries that could be life-changing,  and you suspect a negligent driver is at fault, please call us at Tauber Law Offices immediately.  In the meantime, keep a record of all information and circumstances surrounding the accident and never, ever settle with the other driver's insurance company without first talking to us.
We have decades of experience handing all types of injury accidents.  If we feel you have a case, we will fight aggressively for your rights and compensation.
Tauber Law is here to help you. There is never a fee for your consultation.
Enjoy this spring and coming summer.  But do drive with care.