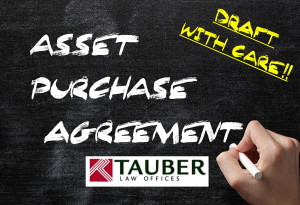 In our previous article we discussed the importance of getting the help from a highly experienced real estate attorney when making a transaction.
When purchasing or selling a business, a carefully crafted Asset Purchase Agreement is extremely important.
Let's say you want to buy a business. What are you really buying? You need to get everything in writing. You may be buying more than just the building/real estate. You'll certainly want a copy of their client list in most cases. What about key employees? Do they go with the sale? That's something else that deserves serious discussion. Are you taking responsibility for contracts and bills payable?
Then there are the other material things. Office equipment, furniture, and vehicles need to be considered. Be sure the agreement lists tangible as well as intangible property that are part of the sale.
Every deal is different. Everything needs to be spelled out.
In order to protect you, we will review all title insurance policies and UCC records to ensure that you are purchasing real estate and property with clear title.
Tauber Law Office has decades of experience in the execution, revision, and review of complex business transactional documents. Let us help you with all of the legalities so you can have peace of mind and concentrate on running your new or expanded business.