Already in this New Year, we're hearing about many tragic accidents involving big trucks in our region – and already some fatalities.   If a big truck hits your vehicle, you are usually the loser considering the monster size and weight of an 18-wheeler versus a passenger car or motorcycle.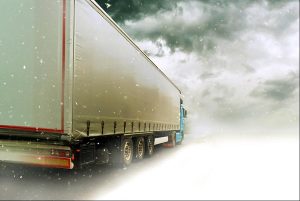 The statistics are a bit staggering in our region, especially this time of year when winter snows and ice cause dangerous additional hazards.
Northwest Indiana combined with South Chicago is one of the busiest set of commercial trucking routes in the country.  We are right in the middle of it.
The stretch of I-65 between Crown Point and Lafayette has become especially dangerous.
As we stated in an article last year:
"In 2014, (the last complete statistics available) here in the Lowell State Police District alone (which includes Jasper, Lake, La Porte, Newton, Porter, Pulaski and Starke counties), there were 904 collisions, most of them resulting in property damage, according to Captain Dave Bursten, Information Officer for the Indiana State Police.  There were a total of 190 total injuries reported; 18 resulted in an incapacitating injury.  10 people were killed.
Over time, as noted in a late 2011 article in the Northwest Indiana Times, an analysis of U.S. Department of Transportation records showed that 8,042 heavy trucks on our regional roads involved the deaths of 218 people during a nine-year period.
Nationally, according to Truckinfo.net, about 5,000 people are killed in truck accidents annually in the United States.
Simply put, big truck accidents are a serious problem.
 Causes of Truck Accidents
About half the time the cause of a big truck accident is, in fact,  the negligence of the driver of the other car or motor vehicle involved in the collision.
However, too often, an accident is caused by brake, tire or manufacutring defects in the truck itself, such as:
Failed brakes
Improper tires for the weight of the truck
Worn tires causing a blow-out
Overloading the truck
Truck Driver Error
Most trucking accidents where the truck driver is at fault are caused simply by operator error.  These include:
Driving under the influence of alchohol, prescription or over-the-counter drugs
Driving too fast for the conditions
Becoming distracted by something, including texting and driving
Driver fatigue
Misjudging the speed of other vehicles
Following vehicles too closely
If you, a family member or friend is seriously injured as a result of a big truck accident caused by the negligence of the driver, contact Tauber Law Office immediately.   Do not ever agree to a quick settlement offered by the trucking company or its insurance provider before talking to us first.
We at Tauber have generations of experience in helping people fight the trucking companies in order to obtain fair compensation for their injuries and/or property loss.
In fact, just last year Tauber Law Offices reached a $5.9 million settlement against an Edinburgh, Indiana, trucking company whose driver was involved in a crash on Interstate 65 that seriously injured two women from Highland and Merrillville. We want you to enjoy your drive, but please be careful.  Those big trucks are a lot bigger than you are.
The Tauber family is ready to help you today.