Case Summary
During a February 2015 boys varsity basketball game between Griffith High School and Hammond High School, an on-court fight broke out involving players. The Commissioner of the Indiana High School Athletic Association ("IHSAA") sanctioned both schools as a result. The sanctions included canceling the remainder of the schools' seasons, suspending them from participation in the state tournament, and imposing probation for the 2015-16 school year, as well as educational requirements for each coach and athlete. Both schools appealed the Commissioner's decisions to the IHSAA's Review Committee, which upheld the decisions. The schools then sought a preliminary injunction in court. Following a hearing, the trial court preliminarily enjoined the IHSAA from enforcing its suspension of the schools from participation in the state tournament. Griffith went on to play in the 3A State Championship game. The IHSAA brings this interlocutory appeal, contending the trial court erred in granting injunctive relief.
Tauber Law Offices is representing Griffin Public Schools and the individual members of the boys basketball team in the case against the IHSAA. Oral arguments were held on Tuesday, February 16, 2016. A decision is expected in the coming months.
See a video of the oral arguments here, including Jared R. Tauber from Tauber Law Office.
https://mycourts.in.gov/arguments/default.aspx?&id=1904&view=detail&yr=&when=&page=1&court=app&search=&direction=%20ASC&future=False&sort=&judge=&county=&admin=False&pageSize=20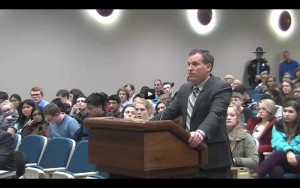 See a report on the appeal here courtesy WRTV-6, Indianapolis.
https://www.theindychannel.com/news/local-news/ihsaa-appeals-ruling-that-lifted-hammond-griffith-suspensions